Butternut Squash Soup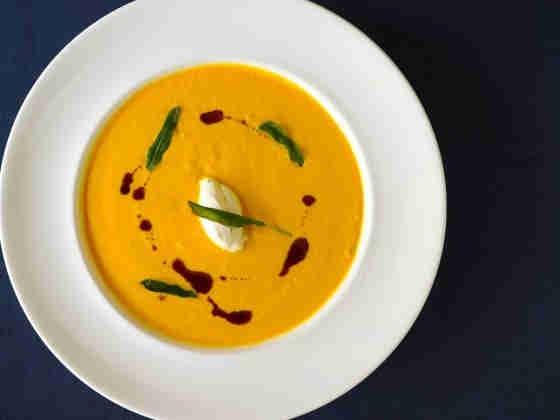 Serves 6
When summer squash transitions to winter squash, soup always comes to mind. Butternut squash is a wonderful, hard variety that when cooked just right will utterly delight you. At this time of year, you'll find several squash varieties at the market, so give the others a try in this recipe. There are a handful of options to garnish this soup. Fried sage has a nice earthy flavor and will be a wonderful flavor contrast to the creamy soup.
8 tablespoons (1 stick) unsalted butter
1 small yellow onion, chopped
3 celery stalks, chopped
1 medium carrot, chopped
1 large leek, white part only, cleaned and chopped
2 shallots, chopped
4 garlic cloves, crushed
21⁄2 pounds Butternut squash, peeled, seeded, chopped
Salt and white pepper to taste
1⁄2 cup heavy cream
1 bunch fresh sage leaves, picked, for garnish
Melt 4 tablespoons of the butter in a medium saucepan over medium-low heat. Add the onion, celery, carrot, leek, shallots, and garlic and sauté until the vegetables are soft, about 7 minutes. Stir the vegetables occasionally to prevent browning. Add the squash to the vegetables and stir. Add 2 quarts of water and season with salt and pepper. Bring to a boil, reduce to a simmer, and cook until the squash is just tender, 15 to 20 minutes.
Add the heavy cream and the remaining 4 tablespoons of butter. Remove the vegetables from the heat and purée immediately in a blender or food processor. Strain through a fine-mesh sieve and adjust seasoning if necessary. Heat a small amount of blended oil to 300°F and fry the sage leaves until crispy. Transfer the sage leaves to paper towels to drain and cool. Ladle the soup into 6 bowls and garnish each with a drizzle of reduced balsamic vinegar or saba and a few fried sage leaves.