from the kitchen: Fig-Braised Beef Short Ribs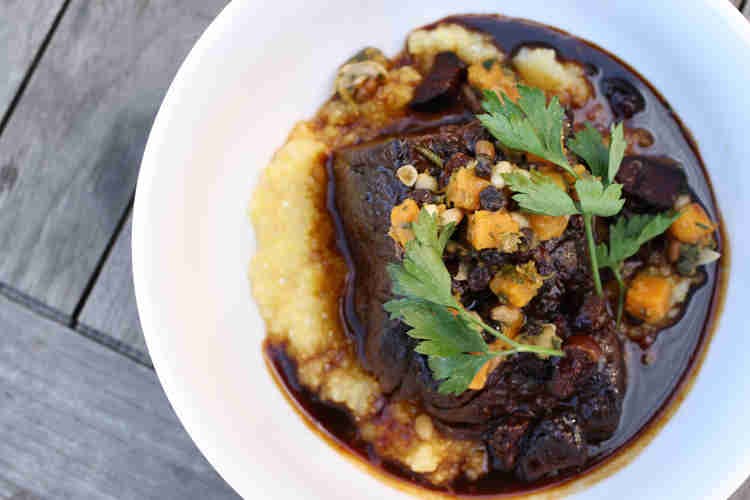 Fig Braised Beef Short Ribs
Serves 6
For the Marinade:
6 short ribs (10 oz. each, boneless)
2 tablespoons sliced garlic
1 tablespoon salt
1 tablespoon pepper
1 tablespoon chopped parsley
1 tablespoon chopped thyme
½ cup red wine
½ cup extra virgin olive oil
1 tablespoon tamari
1 tablespoon Worcestershire sauce
Mix together garlic, salt, pepper, herbs, ½ cup red wine, ½ cup oil, tamari and Worcestershire. Pour over ribs and marinate for at least 12 hours.
For the Sauce:
salt & pepper
4 tablespoons blended oil
3 celery stalks, medium dice
1 carrot, peeled, medium dice
2 medium onions, medium dice
3 Roma tomatoes, rough chop
1 cup red wine
8 cups veal stock
2 cups diced black mission figs
1 bouquet garni
Remove ribs from marinade, scrape excess items off and pat dry. Season with salt & pepper.Heat a large sauté pan over high heat, sear short ribs on all sides until heavily browned. Remove from pan and place in a braising pot.
Add carrots, onions, celery to pan used for searing ribs, and cook over medium heat until vegetables are caramelized. Add tomatoes and cook for 5 minutes. Deglaze with red wine and reduce by half. Add to braising pan with 8 cups of veal stock and bring to a simmer. Add figs, and bouquet garni, cover and place pan in oven and roast for 4 hours, or until ribs are fork tender. Remove ribs from oven, and let them cool to room temperature. Remove ribs from sauce, strain sauce, before returning to pan over medium heat. Reduce sauce by half and add ribs back to heat through.