from the kitchen: winter pickles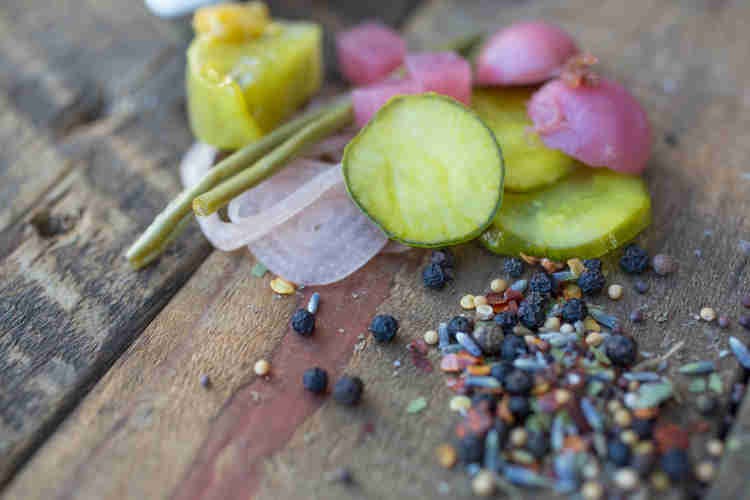 Crunchy, delicious home-made pickles are not just a summer pleasure.
Our chefs make pickles year round at the girl & the fig and fig cafe, using whatever veggies are close to home and in season. And because of the volume of vegetables we serve in the restaurants in any given week, they are fond of preparing "fridge pickles."
This is just pickling without the long processing times required for shelf-stable storage. It's a quick blend, quick blanch, and then into the fridge for tasty, crunchy goodness that will keep for approximately four weeks.
Ingredients:
1 head cauliflower, cored and trimmed into florets
1/4 red onion, julienned
1 bunch radish, washed and quartered
3 carrot, peeled and sliced 1/4" (bias cut optional)
3 cloves garlic, smashed
2 TBS Kosher salt
1 TBS pickling spice
3 cups cider vinegar
1 cup sugar
1 cup water
To Prepare:
Toss veggies with salt and set aside.
Bring pickling spice, vinegar, sugar, water to a boil.
Add veggies to heat-proof, non-reactive container.
Pour boiling liquid over veggies. (Taste brine at this point - carefully! it's hot! You may prefer sharper=more vinegar - or sweeter=more sugar).**
Cover and let cool.
Let chill completely before serving.
Note:
**You might need to weigh down veggies with a small plate to keep them submerged in brine.
Store in refrigerator after cooled, covered in brine.